Sverdheim
Version 1.2.0 Release: Character Creation
---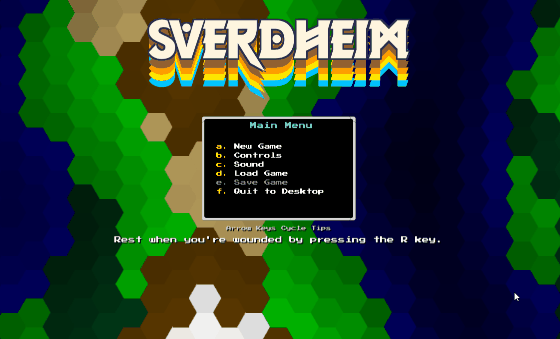 Version 1.2.0 Changelog:
Character creation! Customize your sprite. Name your new character whatever you want. Chose a primary attribute to get that edge. A secondary attribute and weakness are randomly selected for you.
Attributes now defined with opposite attributes, so that the random attribute selection during character creation knows not to stack onto your primary attribute, nor will it select a weakness that negates any of your attributes.
You can see your name in the character status panel.
Your equipped gear is reflected in your character sprite.
Fixed a bug where a player would sometimes fall out of the initiative order during combat and get helplessly stomped on by the enemies until they die.
Old saves not compatible with this release.
Adjustments to the overworld song patch. Randomly inserts a bass kick on the main beat. Sometimes the Matrix Sequencer will now skip adding notes to the 8th column, creating an interesting rest in the song. Matrix Sequencer volume limited so as to not be so ear-piercing at times.
Trying to quicksave during combat gives the player a little feedback message to explain that it's not going to happen.
An autosave file is now saved to before any combat or rest to make your save scumming easier.
Some new tips added to the title screen tip scroll.
Files
Sverdheim-1.2-Alpha.zip
25 MB
May 29, 2020